Teeth Whitening at Wellness Dental Bronte
Brightening your smile's natural colour is simple, thanks to our professional teeth whitening systems. Each one is safe and effective at removing several shades of stain and natural tooth discoloration.
Why Whiten?
If you want to enhance the way your teeth look but don't need something like dental veneers or crowns, then whitening can enhance the natural, healthy smile you already have.
Some people whiten because their teeth gradually accumulated stains over the years, while others just want to look their best for something such as a wedding or job interview. Whitening is also popular with individuals that recently completed teeth straightening treatment.
Types of Whitening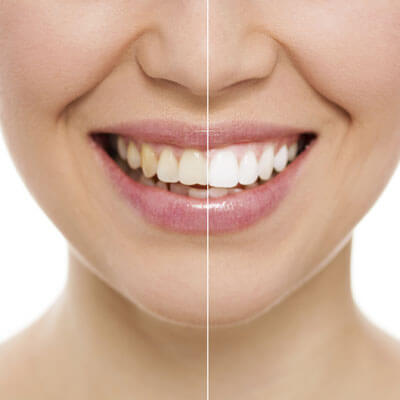 Depending on the timeline you want to work with, we offer two different types of whitening treatments to choose from.
Take Home Whitening – This system is made by taking a mould of your mouth to create trays that are specific to your unique smile. The custom fit keeps the whitening product right where you need it, for even distribution and results. Simply apply the gel and wear the trays for 30-45 minutes per day, for 10-14 days in a row.
Laser / In-chair Whitening – In a rush? We can whiten your teeth in just one trip to our dental clinic. Sit back and relax as we apply the gel to your smile and activate it with a special light. Although the visit can take a little over an hour, you'll have instant results. In-chair whitening is ideal for people who have last minute events or don't want to keep up with a system that they wear every day.
Candidates for Teeth Whitening
It's important that your teeth and gums are healthy before using any type of teeth whitening product. Getting your mouth screened for active tooth decay and gum disease is essential.
If you have any type of dental work at the front of your mouth – such as white fillings or porcelain crowns – these restorations will not change colours when exposed to whitening gels. We recommend whitening prior to getting new dental work, so that you won't have to replace otherwise healthy restorations to match the rest of your smile.
Keeping Your Smile Bright
During a teeth whitening treatment, it's important to avoid any foods or liquids that would stain a white t-shirt. Since your teeth are open and more perceptive to stain particles, exposing them to dark foods could result in more discoloration. Some of the things you want to steer clear of include items like pasta sauces, blueberries, coffee and tea. Using an automated toothbrush can help to reduce the amount of stain between meals.
Book a scale and clean twice per year to have any new superficial stains or buildup cleaned off. If you need to touch up, we recommend using your home whitening kit for a few days after each checkup. People who tend to get more stain may want to whiten more frequently, such as every 3-4 months.
If you experience any type of sensitivity during whitening, we recommend using the kit less frequently and incorporating a sensitivity toothpaste for everyday use.
Ask About Our Teeth Whitening Packages!
We have Teeth Whitening Packages available here at Wellness Dental Bronte, click here to learn more!
Request a consultation today!
CONTACT US
* Any surgical or invasive procedure carries risks. Before proceeding, you should seek a second opinion from an appropriately qualified health practitioner.

Teeth Whitening Bronte, Clovelly, Waverley, Bondi NSW | (02) 9131 4112