Gum Disease Care at Wellness Dental Bronte
Your gums are the foundation to a healthy mouth and smile. Healthy gums are crucial to keeping your teeth stable and enjoying simple things like eating and chewing. But they're also vital to good overall wellness.
Unfortunately, gum disease can jeopardise the integrity of your teeth and systemic health. It's proven that aggressive periodontal infections can lead to or increase the severity of health issues like:
Heart disease
Stroke
High blood pressure
Premature birth
Preeclampsia
Infertility (men and women)
Erectile dysfunction
Pneumonia
Diabetes
What is Gum Disease?
Periodontal disease occurs when the structures around your teeth become infected, causing them to detach from the tooth roots. As a result, gum and bone tissue shrink away and teeth can become mobile or fall out.
The bacterial plaque inside of the gum pockets (which are created when the tissues detach) can also spread into your cardiovascular system and the rest of your body. Scientific studies show that the biofilm can then lodge in cardiovascular walls or spread through the placenta to a baby, if a woman is pregnant.
Symptoms of Periodontal Disease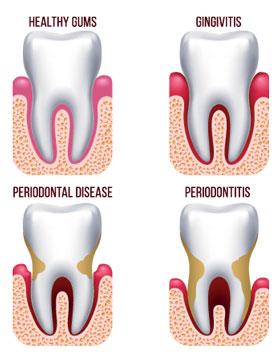 Some of the most common signs of gum disease include:
Heavy tartar buildup
Swollen or red gums
Bleeding when you brush and floss
Spaces between teeth
Bad breath
Gum recession ("long teeth")
Prevention of plaque buildup and regular dental cleanings are important to delay the onset of a more serious oral infection. Be sure to let us know if gum disease runs in your family.
During pregnancy, some women experience hormonal changes that affect their gum tissues. Please let us know if you're expecting.
The only way to know the certainty and extent of your gum disease is to schedule a dental evaluation. During your exam, we'll measure the levels of gum and bone attachment at each tooth. We evaluate these areas at each checkup to make sure your tissues remain stable. An OPG or full mouth X-rays will help us to pinpoint specific problem areas and screen for any changes since your last set of films.
Therapeutic Cleanings
People who tend to get heavy buildup may need more frequent scale and cleans, such as 3-4 times per year instead of every six months. But if there are deep pockets with heavy buildup, you may need a therapeutic deep clean to get your mouth back to a healthy state.
As long as your mouth is cleaned routinely and there's no further advancement of disease, additional treatment isn't required.
Oral Hygiene
The way you clean around and between your teeth plays a significant role in gum disease. It's important to brush your teeth at least twice per day, two minutes at a time, specifically along the gumlines. We'll also show you how to clean between your teeth with floss or an interdental brush.
Since plaque can calcify into tartar in just 24 hours, a thorough daily routine is crucial to combating gum disease.
Do You Have Bleeding Gums?
Gum disease is one of the leading causes of dental treatment. Schedule a Periodontal Care Bronte evaluation to keep your smile healthy for life!
CONTACT US
* Any surgical or invasive procedure carries risks. Before proceeding, you should seek a second opinion from an appropriately qualified health practitioner.

Gum Disease Treatment Bronte, Clovelly, Waverley, Bondi NSW | (02) 9131 4112