Dentures at Wellness Dental Bronte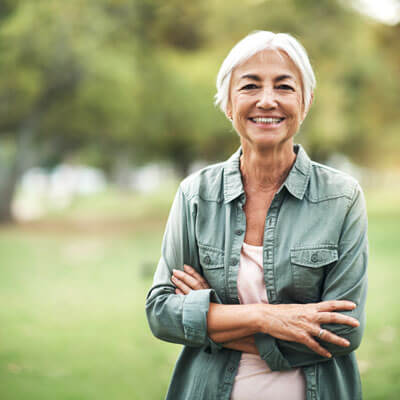 Do you have multiple missing teeth? Our custom dentures can help restore your smile and provide jaw support for maintaining a balanced diet.
Depending on how many teeth you need to replace, we offer a variety of different denture designs and colours. Although it's our priority to restore your bite and oral function, we also want your prosthesis to enhance the way your overall smile looks. When you feel proud of the aesthetics of your new teeth, you won't have to worry about feeling self-conscious in public or social settings.
Denture Designs
For the most part, our dentures come in two particular designs. The first is an acrylic base, with plastic teeth attached to the top of it. Acrylic is typically used if you need a full arch prosthesis (complete denture) or in limited situations where a partial denture is required.
The second type of denture design is one with a metal base and plastic teeth. Metal framework dentures are typically reserved for partial appliances, rather than a full-arch "plate".
Full vs. Partial Dentures
Aside from the design of your denture, there are two particular types to be aware of. Full dentures ("plates") are used when you need to replace all of your teeth at one time. The prosthesis rests directly on your gum tissues when no other teeth are present. If you have any remaining teeth that are diseased or severely damaged, they will need to be extracted prior to wearing a full arch denture.
Partial dentures are recommended when you only need to replace some of the teeth, rather than all of them. A partial "clips in" around your remaining healthy teeth, using them as support to help keep the removable appliance in place.
The first several days or weeks of wearing a new denture can take some time to get used to. As you adjust to eating new foods and speaking with a removable appliance, you'll find that it takes a bit of practicing. Fortunately, with time you'll be able to chew and talk as normal as possible. Although your speech may initially be affected, you'll find that with practice it becomes easier to feel comfortable in your new smile.
A custom denture is ideal for someone who needs efficient and affordable tooth replacement treatment. They also work well for individuals who eventually want dental implants but need an interim solution before they're ready to start down the implant process.
It's important to remove your denture or partial every night to give your gums a rest (and prevent the risk of infection). Soak your appliance in a gentle cleansing solution and then brush it thoroughly the next morning before wearing it again. Take care to only use lukewarm or cool water, so that hot temperatures do not cause the material to warp. Be sure to bring it with you for regular checkups so that we can make sure no adjustments are necessary.
Customised Dentures
For an individualised Dentures Bronte experience, contact us today!
CONTACT US
* Any surgical or invasive procedure carries risks. Before proceeding, you should seek a second opinion from an appropriately qualified health practitioner.

Dentures Bronte, Clovelly, Waverley, Bondi NSW | (02) 9131 4112