Checkups and Cleans at Wellness Dental Bronte
Preventative dentistry is one of the most important aspects of our services. The health of your smile affects everything from your overall wellness to your confidence in social settings. With healthy teeth and gums, you can expect to maintain and preserve your smile for a lifetime.
Your First Visit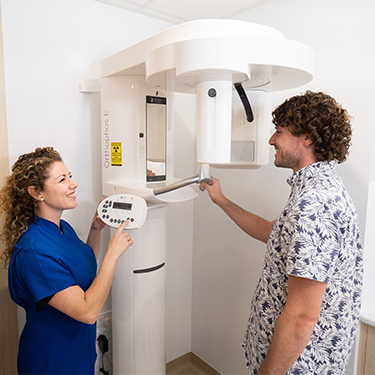 If it's your first checkup with us, plan to arrive about 15 minutes early to complete your new patient paperwork. As we gain a better understanding of your health and medical history, it can help us to fine tune the services that we offer.
During your comprehensive exam, we'll check everything from your TMJ (jaw joint) to screen for cancer of the oral tissues. From there, we'll move on to evaluating the health of your teeth and gums. X-rays or an OPG are taken as needed (usually about once every 1-3 years, depending on your risk factors).
Whatever your main concern is, we'll be sure to address it during this first appointment. It could be that you want a checkup and clean or you have a problematic tooth that's causing discomfort. Your priorities will always be ours. If you simply want a clean, we'll use an ultrasonic instrument and polish away any buildup, then apply a fluoride treatment. Any newly diagnosed areas of decay can be addressed at a future appointment.
Co-Planning Your Care
We feel that the better informed you are about your oral health, the more comfortable you'll feel about planning appropriate treatments. We're always up front about our care recommendations, so that you know exactly what to expect. Every treatment plan will include a detailed breakdown, including costs involved.
As part of your care plan, we'll take a series of digital photos to show you any of our findings. That way you'll have the visual information you need to make an educated choice about appropriate treatment.
Because we have such a strong foundation on prevention, we'll also address what steps you can take to ensure oral conditions don't get worse, recur or spread to adjacent teeth.
"How Often Should I Schedule a Checkup?"
Most people with healthy teeth benefit from a scale and clean every six months. We'll walk you through the best way to brush and floss, to prevent tartar buildup between visits.
If you're someone who is starting to exhibit symptoms of gum disease or gets heavy buildup, you may want to plan a scale and clean more often than twice per year. We screen for periodontitis at each checkup, so we'll alert you to any early warning signs.
For women who are planning to try for a baby, scheduling a preventative dental appointment can help you get your body into optimal health. Data shows that gum disease can make it more difficult to conceive and even raise your risk of going into labour prematurely.
Book Your Scale and Clean Today
Has it been longer than six months since your last dental visit? Book a Checkup and Dental Cleaning Bronte today!
* Any surgical or invasive procedure carries risks. Before proceeding, you should seek a second opinion from an appropriately qualified health practitioner.

Dental Checkup and Cleans Bronte, Clovelly, Waverley, Bondi NSW | (02) 9131 4112