Cosmetic Dentistry at Wellness Dental Bronte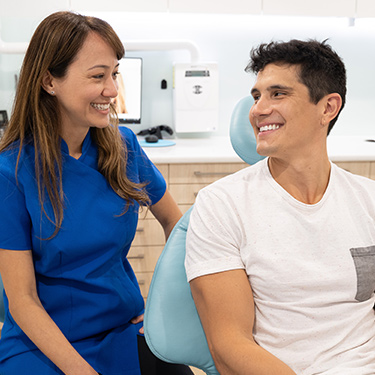 Investing in beautiful, white, straight teeth means knowing your teeth will look their best every day of the week. A gorgeous smile helps make great first impressions and is the perfect accessory to show off every day.
Cosmetic Options
Is your smile holding you back? If you feel embarrassed because of a chipped tooth or you wish you could correct a few issues like crowding and discolouration, our cosmetic dentistry treatments could be just what you're looking for.
Invisalign® – Did you wear braces at a young age but experience a relapse in tooth movement from not wearing your retainer? Are you an adult or teen with minor crowding or gaps that you wish you could straighten out? Invisalign clear aligners offer a discreet and comfortable orthodontic alternative to conventional metal braces. They're easily removable to enjoy all your favourite foods and keep oral hygiene easy. Find out if you qualify.
Invisalign teeth straightening works by changing out a set of aligners every two weeks. Each pair places gentle pressure on your teeth to guide them into a straighter position. Depending on the extent of your needs, the average case can be completed in about a year. We'll be able to provide you with a more accurate time frame during your individual consultation. Read more>>
Teeth Whitening – It's normal for our teeth to accumulate stains over time. If you have naturally dark enamel or are a heavy coffee drinker, your enamel may look more stained than someone else's. Fortunately, professional teeth whitening can safely lighten your teeth by several shades without the irritation or sensitivity that you might experience with over-the-counter products. Choose between a same-day procedure or a set of customised take-home trays. Read more>>
Dental Veneers – Cosmetic veneers are made of shells of porcelain that we bond over the front of your teeth in the "smile zone". Almost instantly, they recreate the way you look, by providing the appearance of a perfectly white, straight smile. The process generally takes two separate appointments about two weeks apart. You can even specify the colour and shape of teeth that you would like!
We also offer same-day composite veneers, which are designed chairside for immediate results when time is of the essence. These resin veneers are best for situations where only one or two teeth need to be corrected, as opposed to your entire smile. Read more>>
Flexible Financing Options
Investing in a beautiful smile is something that most people wish they had done years sooner. Fortunately, flexible payment plans make it simple to start your cosmetic dentistry treatment, because it easily fits into your monthly budget. Get a complimentary quote on our interest-free financing with your cosmetic treatment plan. You'll know exactly what to expect before you ever schedule the start of your procedure.
Schedule Your Smile Evaluation
Unhappy with the way your teeth look? Our cosmetic dentistry Bronte options are great as stand-alone treatments or can be combined with other services. Contact us to get started!
* Any surgical or invasive procedure carries risks. Before proceeding, you should seek a second opinion from an appropriately qualified health practitioner.

Cosmetic Dentistry Bronte, Clovelly, Waverley, Bondi NSW | (02) 9131 4112