Emergency Dental Care at Wellness Dental Bronte
Are you in pain? We always reserve time throughout our schedule to accommodate same day dental emergencies. If you're experiencing discomfort or need immediate attention, we encourage you to contact us as soon as possible.
Wellness Dental Bronte is equipped to handle last-minute emergency cases for people of all ages.
What to Expect
During emergency appointments, our top priority is to address the cause of your discomfort and get you out of pain as quickly as we can. First, we'll check the tooth in question and order appropriate X-rays to spot the source of the problem.
Typically, we provide immediate, interim pain relief at the time of your visit. Should more complex care be required, we can book you for such procedures at a later time.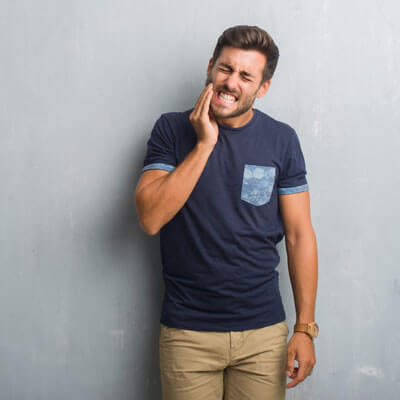 Broken Fillings: Some of the most common dental emergencies that we treat are broken or lost dental fillings, especially in front teeth (because they're visible to everyone else). If you're not in pain, you might be able to wait until the next business day to see our dentist. In the meantime, avoid eating on that side of your mouth. You can also take over the counter pain relievers (anti-inflammatories work best) as long as you're medically fit to do so.
Knocked Out Teeth: Knowing what to do about a knocked out tooth can help you save your smile. The key is to act quickly. Take care not to touch the tooth's root at any time. Handle it by the crown only, as it's possible to damage the small fibres that help to reattach the tooth in place. Place the tooth in saltwater or milk and bring it to our office straightaway.
If there was trauma to your face, apply a cold compress to the outside of your mouth to prevent any further swelling. Get to our office straightaway, so that we can work to reinsert the tooth if at all possible.
Is it Truly an Emergency?
How can you know for certain if your condition requires emergency dental care? If you're experiencing any of the following, be sure to contact us as soon as possible:
You're unable to eat because of discomfort
There's severe pain or a chronic toothache
You can't sleep
The situation prevents you from going to work or school
It's a source of embarrassment
There's visible swelling or an abscess
Cases where there is uncontrollable bleeding or a suspected broken jaw should head to the nearest hospital emergency room.
After Hours Care
If for any reason you're not able to get to our office because it's after business hours or on the weekend, contact us via our office number; your call will be routed to one of our staff members, who will be in touch with you as quickly as possible.
Should you be unable to get in touch with us, head to the nearest hospital.
Same Day Emergency Care
Contact us today to get fast pain relief and emergency dental care Bronte. Here, your smile is in good hands!
CONTACT US
* Any surgical or invasive procedure carries risks. Before proceeding, you should seek a second opinion from an appropriately qualified health practitioner.

Emergency Dentist Bronte, Clovelly, Waverley, Bondi NSW | (02) 9131 4112